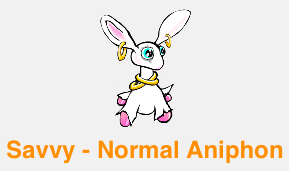 Description
Profile info: "No one is quite sure what type of animal a Savvy is best described by. Rabbit? Horse? These creatures are hoarders of shiny objects and are often easily captured because of their over encumbrance brought about by holding many pounds of stolen jewelry. Male and female versions of the Savvy exist in the wild but as of yet no researcher has been able to easily distinguish the two from afar."
Wild Conditions/Influences
Strengths and Weaknesses
None.
Abilities
Health
Savvy's Health by Level

| Level | Health |
| --- | --- |
| 1 | 80 |
| 2 | 86 |
| 3 | 93 |
| 4 | 100 |
| 5 | 108 |
| 6 | 117 |
| 7 | 126 |
| 8 | 137 |
| 9 | 148 |
| 10 | 159 |
| 11 | 172 |
| 12 | 186 |
| 13 | 201 |
| 14 | 217 |
| 15 | 234 |
| 16 | 253 |
| 17 | 274 |
| 18 | 296 |
| 19 | 319 |
| 20 | |